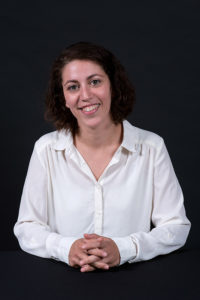 Soraya Rouifed
Associate Professor in Ecology

---
Expertise
Invasive species, plant ecology, biodiversity management, aquatic ecology
---
Research Unit
Agroecology and Environment  
Keywords
Invasive species, plant ecology, biodiversity management, aquatic ecology
Projects
Ecology
Biodiversity Management in Agroecosystems
Teaching activities
Ecology
Biodiversity Management in Agroecosystems
Professional experience and background
2018-: Researcher and lecturer, ecology, Isara
2014-2018: Researcher LEHNA, Villeurbanne, France
2013-2014: Invited researcher Evolutionary Biology Center, Uppsala University, Sweden
2012-2013: esearch and teaching Franche-Comté University and Chrono-environment lab, Montbéliard, France
2011: PhD in ecology « Performances of invasive asian knotweeds depending on environmental stress», Lyon 1 University, France, supervised by Florence Piola (LEHNA)
Rouifed, S., M. Cottet, M. de Battista, Y-F Le Lay, F. Piola, P. Rateau, and A. Rivière-Honegger. 'Landscape Perceptions and Social Representations of Fallopia Spp. in France'. The Science of Nature 105, no. 11 (November 2018): 67. https://doi.org/10.1007/s00114-018-1592-7.
Gippet, Jerome M. W., Florence Piola, Soraya Rouifed, Marie-Rose Viricel, Sara Puijalon, Christophe J. Douady, and Bernard Kaufmann. 'Multiple Invasions in Urbanized Landscapes: Interactions between the Invasive Garden Ant Lasius Neglectus and Japanese Knotweeds (Fallopia Spp.)'. Arthropod-Plant Interactions 12, no. 3 (June 2018): 351–60. https://doi.org/10.1007/s11829-017-9589-2.
Rouifed, Soraya, Sara Puijalon, Clement Bardon, Guillaume Meiffren, Antoine Buonomo, Nadia Sebei, Sophie Poussineau, Felix Vallier, Michiko Shimoda, and Florence Piola. 'Comparison of Defence and Performance Traits between One Widespread Clone and Native Populations in a Major Invasive Plant Species'. Diversity and Distributions 24, no. 3 (March 2018): 297–312. https://doi.org/10.1111/ddi.12690.
Michalet, Serge, Soraya Rouifed, Thomas Pellassa-Simon, Manon Fusade-Boyer, Guillaume Meiffren, Sylvie Nazaret, and Florence Piola. 'Tolerance of Japanese Knotweed s.l. to Soil Artificial Polymetallic Pollution: Early Metabolic Responses and Performance during Vegetative Multiplication'. Environmental Science and Pollution Research 24, no. 26 (September 2017): 20897–907. https://doi.org/10.1007/s11356-017-9716-8.
Binet, Philippe, Soraya Rouifed, Vincent E. J. Jassey, Marie-Laure Toussaint, and Genevieve Chiapusio. 'Experimental Climate Warming Alters the Relationship between Fungal Root Symbiosis and Sphagnum Litter Phenolics in Two Peatland Microhabitats'. Soil Biology & Biochemistry 105 (February 2017): 153–61. https://doi.org/10.1016/j.soilbio.2016.11.020.