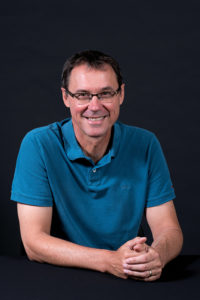 Keywords
Agroecology, agroecosystems analysis: management of biodiversity, water quality, and ecological corridors.
Research projects
African Cases: Good practices in agroecology in food insecure African countries
SRCE: Perméabilité des espaces agricoles et Schéma Régional de Cohérence Ecologique de Rhône-Alpes
PRADIV:  Pratiques agroécologiques au service de la biodiversité (auxiliaires et pollinisateurs des cultures) et de la performance des systèmes de culture
BIODIV+:  Diversité multi-échelles dans les agroécosystèmes pour améliorer le control des ravageurs et la résilience des systèmes
SUSPLUS: Innovative Education towards Sustainable Food Systems
TEFSI: Transformation of European Food Systems towards Sustainability by Transnational, Innovative Teaching
SERVIPOND: Ecosystem services and fish pond systems
Teaching activities
Coordinator of MSc Agroecology
Agroecology, Agroecosystems of the world and agricultural use, Management of agroecosystems
Work experiences and studies
2006-today: Isara, France.
2004: Habilitation, University of Greifswald, Germany, thesis: Land use and resource conservation in rural areas of different developing countries.
1998: Ph.D., University of Hohenheim, Germany, thesis: Fallow cultivation system and management possibilities in semi-arid Niger, West Africa,
Debray, V., Wezel, A., Lambert-Derkimba, A., Roesch, K., Lieblein, G., Francis, C.A. (2019). Agroecological practices for climate change adaptation in semi-arid and sub-humid Africa. Agroecology and Sustainable Food Systems 3 (4): 429-456.
Migliorini, P., Wezel, A. (2018). Converging and diverging principles and practices of organic agriculture regulations and agroecology. A review. Agronomy for Sustainable Development. 37: 63. doi.org/10.1007/s13593-017-0472-4
Wezel, A. (2017). Agroecological practices for sustainable agriculture: principles, applications, and making the transition. World Scientific, New Jersey, USA, 485 p.
Wezel, A., Goette, J., Lagneaux, E., Passuello, G., Reisman, E., Rodier, C., Turpin, G. (2018). Agroecology in Europe: Research, education, collective action networks, and alternative food systems. Sustainability 10, 1214. doi:10.3390/su10041214
Wezel, A., Goris, M., Bruil, J., Félix, G.F., Peeters, A., Bàrberi, P., Bellon, S., Migliorini, P. (2018). Challenges and actions points to amplify agroecology in Europe. Sustainability 10, 1598. doi:10.3390/su10051598
Wezel, A., Vincent, A., Nitsch, H., Schmid, O., Dubbert, M., Tasser, E., Fleury, Ph., Stöckli, S., Stolze, M., Bogner, D. (2018). Farmers' perceptions, preferences, and propositions for result-oriented measures in mountain farming. Land Use Policy 70: 117-127.