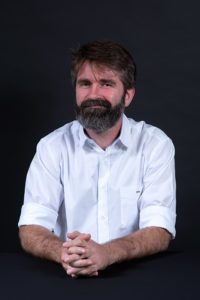 Mathieu Guerin
Enseignant-Ingénieur de recherche
---
Expertise
Hydrochimie et hydrobiologie des eaux de surface continentales, bassins versants, cartographie SIG.
---
Unité de recherche
Agroécologie et environnement
Mots-clés
Hydrochimie, hydrobiologie, phytoplancton, cartographie. Système d'Information Géographique, bassins versants, macro invertébrés aquatiques, pisciculture continentale.
Projets en cours
TIPPINGPOND : TIPPING points, biodiversity, resilience and ecosystem services: PONDs as model system (projet Européen).
RESOTROPHIC : Comment optimiser le fonctionnement du réseau trophique d'un étang pour améliorer la disponibilité des ressources alimentaires pour le poisson ? (Région Rhône-Alpes, Conseil Général de l'Ain).
ASSEC : Quelle pratique de l'assec pour la gestion raisonnée des étangs piscicoles de la Dombes et de la plaine du Forez (Région Rhône-Alpes, Conseil Général de la Loire).
PASSAGES : Les réseaux écologiques en Rhône-Alpes, traductions dans les projets d'aménagement et mises à l'épreuve dans l'agriculture.
CNR : Etat des lieux et tendance d'évolution de l'agriculture dans la vallée du Rhône (Cartographie statistique et enquêtes).
JASSUR : La nature en ville et le cas spécifique des jardins urbains : approche géographique et historique comparée entre plusieurs villes de France et du bassin méditerranéen.
Activités d'enseignement
Chimie des solutions et Thermochimie (1e année cycle ingénieur)
Agroécologie à l'échelle de l'exploitation (2e année cycle ingénieur)
Analyse spatiale, cartographie SIG (3e année cycle ingénieur)
Expérience professionnelle et formation
2008 à ce jour : Chargé d'enseignement et de recherche ISARA-Lyon
2006-2007 : Chargé de mission (UMR EQHC – Agrocampus Rennes ; UMR Ecobio – CAREN Université Rennes 1). Suivi du développement embryonnaire de salmonidés en milieu interstitiel
2005-2006 : Diplôme M2 Recherche Bassins Versant Eau Sol – Agrocampus Rennes ; CAREN Université Rennes 1
Wezel, A., Guerin, M., Robin, J., Arthaud, F., Vallod, D. (2013). Management effects on water quality, sediments and fish production in extensive fish ponds in the Dombes region,France. Limnologica 43 (3): 210-218
Sarrazin, B ; Tocqueville, A ; Guerin, M ; Vallod, D. (2011). De la parcelle au poisson d'étang. Recherche de résidus de pesticides dans l'agroécosystème piscicole. Techniques Sciences Méthodes, n°12, pp. 49-58.