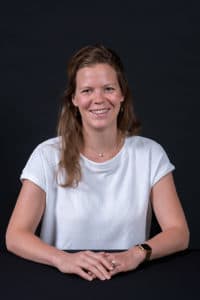 Marie Benoit
Associate Professor, PhD Agronomy & Environment
---
Expertise
Agronomy and protection of water resources
---
Research Unit
Agroécologie et environnement
Key Words
Cropping systems, Nitrogen leaching, Greenhouse gas emissions, Organic farming

Current projects
Research activities on the impacts of farming practices in the environment.
Teaching activities
Components of the Agroecosystem – Plant Stands (2nd year)
Functioning of the agroecosystem at the plot scale (2nd year)
Animal and vegetable productions (3rd year)
Organic farming, territories and markets (4th year)
 DA agroecology and agronomic innovations (5th year)
  Master of Agroecology
Professional experience and training
Since 2019: Teacher-Researcher at ISARA (Lyon, FR)
2017-2019: Scientific communication officer at PROTECT'eau (Namur, BE)
2015-2017: Teacher-Researcher in Agroecology at UniLaSalle (Rouen, FR)
2014-2015: Post-doctorate in agri-environmental modeling in collaboration with INRA (Laon, FR)
2011-2014: PhD in Agronomy-Environment at UPMC (Paris, FR)
"Leaching and atmospheric emissions in organic and conventional systems of the Seine basin"
2011: Agronomy engineer degree from ENSAIA (Nancy, FR) –
Specialty in Environmental Science and Technology
Rezgui C., Riah-Anglet W., Benoit M., Bernard PY, Laval K., Trinsoutrot-Gattin I. (2020). Impacts of the Winter Pea Crop (instead of Rapeseed) on soil microbial communities, nitrogen balance and wheat yield. Agricutlure, MDPI
Benoit M., Wouez D., Triolet N. (2019). La protection des captages. Bulletin d'information de PROTECT'eau. 32 pp.
Benoit M., Picron P., Wouez D., Vandenberghe C. (2018). Qualité de l'eau en Wallonie et azote potentiellement lessivable. Bulletin d'information de PROTECT'eau. 48 pp.
Benoit M., Garnier J., Billen G., Tournebize J., Gréhan E, Mary B. (2015). Nitrous oxide emissions and nitrate leaching in an organic and a conventional cropping system. Agriculture, Ecosystems & Environment doi :10.1016/j.agee.2015.07.030
Benoit M., Garnier J. , Anglade J., Billen G. (2014). Nitrate leaching from organic and conventional arable crop farms in the Seine Basin (France). Nutrient Cycling in Agrosystems doi 10.1007/s10705-014-9650-9
Benoit M., Garnier J., Billen G., Mercier B., Azougui A., Afonso A., Anglade A., Ansart P., Tournebize J., Tallec G. (2013). Transformations et pertes d'azote dans les différents compartiments aquifère-sol-atmosphère. Cas d'une exploitation agricole du bassin d'Orgeval. Rapport d'activité 2012 PIREN-Seine.
Benoit M., Garnier J., Billen G., Mercier B., Azougui A., Ansart P. et Tournebize J.(2012). Mise en place d'un observatoire du lessivage du nitrate en AB dans le bassin de la Seine. Rapport d'activité 2011 PIREN-Seine.