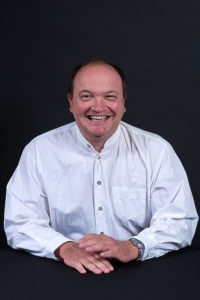 Joël Robin
Enseignant-chercheur. Dr Analyse et modélisation, systèmes biologiques
---
Expertise
Etude de la dynamique des populations algales, déterminisme des proliférations de cyanobactéries, ingénierie écologique : actions correctives sur les milieux aquatiques.
---
Unité de recherche
Agroécologie et environnement
Mots-clés
Phytoplancton, algues, cyanobactéries, étang, baignade, pisciculture, pêche, eutrophisation, pollution
Projets en cours
TIPPINGPOND : TIPPING points, biodiversity, resilience and ecosystem services: PONDs as model system (projet Européen)
RESOTROPHIC : Comment optimiser le fonctionnement du réseau trophique d'un étang pour améliorer la disponibilité des ressources alimentaires pour le poisson ? (Région Rhône-Alpes, Conseil Général de l'Ain)
ASSEC : Quelle pratique de l'assec pour la gestion raisonnée des étangs piscicoles de la Dombes et de la plaine du Forez (Région Rhône-Alpes, Conseil Général de la Loire)
Innovations agroécologiques et développement durable pour la filière piscicole de la Dombes (Fondation Daniel Carasso, Région Rhône-Alpes)
Activités d'enseignement
Responsable de l'Unité d'Enseignement Biologie des Organismes Animaux, 1er année cycle ingénieur
Enseignant  en Ecologie, 2e Année Cycle Ingénieur
Responsable du module « eau et environnement », 4e année cycle ingénieur
Responsable de l'optionnel MAESTRO (mise en situation professionnelle tutorée par un enseignant), 4e année cycle ingénieur
Intervenant de la Summer School (accueil d'étudiants étrangers)
Expérience professionnelle et formation
De 1998 à ce jour : Enseignant-chercheur ISARA-Lyon, rattaché à l'UMR 5023 LEHNA, Laboratoire d'Ecologie des Hydrosystèmes Naturels et Anthropisés, Université Lyon 1-CNRS-ENTPE-ISARA-Lyon. Membre de l'équipe Ecologie Végétale et Zones Humides.
Doctorat « Analyse et Modélisation des Systèmes Biologiques ». Sujet : "Dynamique saisonnière des populations phytoplanctoniques". Université Claude Bernard – Lyon I (1999).
Robin J., A. Wezel, G. Bornette, F. Arthaud, S. Angélibert, V. Rosset, B. Oertli, 2014. Biodiversity in eutrophicated shallow lakes: determination of tipping points and tools for monitoring. Hydrobiologia, 723:63–75.
Lepori, F., Robin, J., 2014. Nitrogen limitation of the phytobenthos in Alpine lakes: results from nutrient-diffusing substrata. Freshwater Biology, 59: 1633-1645.
Ait Hammou H., Latour D., Sabart M., Samoudi S., Mouhri K., Robin J., Loudiki M., 2014. Temporal evolution and vertical stratification of Microcystis toxic potential during a first bloom event. Aquatic Ecology, 48 : 219–228.
Rosset, V., Angelibert, S., Arthaud, F., Bornette, G., Robin, J., Wezel, A., Vallod, D., Oertli, B., 2014. Is eutrophication really a major impairment for small waterbody biodiversity? Journal of Applied Ecology, 51(2): 415-425.
Wezel, A., Oertli, B., Rosset, V., Arthaud, F., Leroy, B., Smith, R., Angelibert, S., Bornette, G., Vallod, D., Robin, J., 2014. Biodiversity patterns of nutrient-rich fish ponds and implications for conservation. Limnology, 15: 213-223.
Vanacker, M., Wezel, A., Payet, V., Robin, J., 2015. Determining tipping points in aquatic ecosystems: The case of biodiversity and chlorophyll-a relations in fish pond systems. Ecological Indicators, 52: 184-193.