Several English or French-taught higher education programmes are offered to international students. Whether you are a student from a partner university or not, a professional wanting to complement your training, with knowledge of French or not, you are able to find at Isara the educational programme adapted to your project.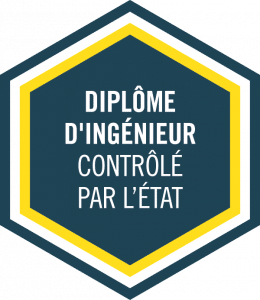 The Engineering Programme associates scientific and technological expertise with the development of management skills, to train future managers in the agricultural and food sectors.
The skills of Isara Engineer
Isara engineer use to the best their knowledge in their professional activities: scientific knowledge and methods, professional and managing skills, precision, efficiency and open-mindedness.
Based on scientific knowledge and methodologies, Isara Engineer must be able to :
Design and implement protocols and action plans.
Propose operational and rigorous solutions.
Manage projects, teams, processes and budgets.
Take initiatives and responsibilities.
Adapt to varied and unknown situations.
The first three years constitute the core curriculum andthe courses are proposed in french. At Master level, 5 specializations are available to the students.
Accreditation of the Engineering Degree
The Engineering Degree is recognized by the French State (Official Jourbla of 28 May 1974) and accredited by the CTI (Commission des Titres d'Ingénieur)
The Engineering Degree is awarded the EUR-ACE label

Students of partner universities can study during one or two semesters at Isara, within 1 of our 5 specializations :
Agriculture, environment and resource managment
Food science and the management of food industries
Markets and corporate management
Sustainable rural development
Viti-viniculture
---
8 different optionnals (30 ECTS each)
Territories, Agroecological Innovation, Support:

Train engineers to support the development of local agriculture towards better management of natural resources and the adoption of new, more efficient production methods.
---
Livestock farming, environment and health
(in partnership with Lyon National Veterinary School). This programme brings students the necessary skills to improve animal feed quality & safety as well as the environmental quality of livestock production. The students will develop advisory skills to implement quality strategies and innovation techniques.
---
Innovation management and business development
This training programme provides students with knowledge and skills on the innovation challenges and the development issues of a company. 5 specific subjects are taught : marketing, strategy, quality, research & development and management.
---

Industrialization and conception of food products
(common programme with ESA-Angers, France Agro3 consortium) The future graduates will be prepared to take in charge the technical and organizational management of an agri-food production site (including the design, organization, manufacturing and industrial processes management, quality, environmental impact of the company…).
---
Strategies, innovation and governance in sectors and territories
Train professionals capable of designing and managing multi-partnership projects in sectors, territories and environmental management and of supporting the transition of agriculture and food.
---
Supply chain management and agrifood logistics
This programme aims at training high-level logisticians whose mission is to manage goods and information flows, upstream, within and downstream the company.
---
Sustainable development in food industries
The future graduates will gain the necessary skills to accommodate the continuous improvement and sustainable development of agrifood production. The programme especially focuses on the innovative management methods used in the agrifood sector.
Isara offers the possibility to obtain a second diploma at a partner university in Europe or South America. Double degree students can obtain two diploma at the end of their curriculum (with one to two additional semesters): Isara engineering diploma and the diploma of the foreign partner university (engineering or master degree).
Double degree students must study 2 ou 3 semesters at the parnter university.