Our international Agroecology and Sustainable Food Systems Seminars at Isara
Can small-scale vegetable systems (microfarms) based on permaculture and agroecological thinking be viable?
With Dr. Kevin MOREL, UMR SAD-APT INRA/AgroParisTech, France.
Friday 22nd November, 12h30-13h20, Amphi 1 – Isara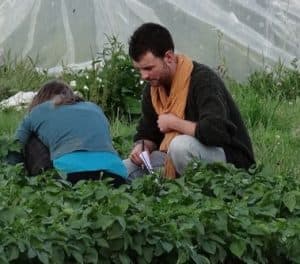 Kevin Morel will introduce the work done during his PhD thesis, carried out on 20 cases in Northern France. Microfarms are organic market gardens which are questioning the principles of agricultural modernisation. They are characterised by a high level of crop diversity on small acreages, low motorisation and marketing through short supply chains . They are inspired by alternative approaches such as permaculture, natural farming and biointensive vegetable production. To which extent such radical farming systems can be viable ? that is the question he addressed combining qualitative methods and modelling.
The second seminar will be given by
Pr.Dr. Tillmann Buttschardt, Universität Münster, Germany.
Are perennial wild plant mixtures for biogas production a solution to link food-energy-water nexus with biodiversity conservation?
Monday 25th November, 12h30-13h20, Amphi 1